JOHN JENKINS
Lots of FREE FREE FREE stuff at the bottom of this page (just scroll down)....
** Welcome to my home-made website. UPDATED JAN 2022:
IF YOU LIKE, SEND ME AN EMAIL
My email address is (all in lower case):
john followed immediately without any spaces by dot(.) then by jenkx1 then @gmail.com
About: Here, the emphasis is on my newest writing projects, works in progress and recent publications.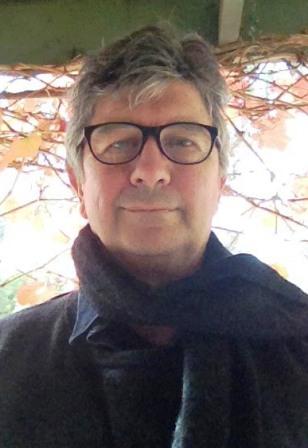 John Jenkins is a widely published Australian writer of poetry, short fiction, essays and general non-fiction.
He is presently working on a number of projects, some listed on this site.
New! John's 2022 poetry collection, The Sky Inside Us, has just been published by Ginninderra. Its 108 pages contains new and previously unpublished poems – many written (almost) yesterday. That said, a sparkling sprinkle date back to the 1960s and 1970s.
See: https://www.ginninderrapress.com.au/store.php?product/page/2401/John+Jenkins+%2F+The+Sky+Inside+Us
His 2019 collection of poetry Poems Far and Wide is published by leading literary publisher Puncher & Wattmann.
One of the pieces from Poems Far and Wide that has proven very popular is The Wedgetails, the first few lines of which are printed below:
Order Falconiformes, family Accipitridae, diurnal raptor;
for traditional Wurundjeri people, 'Bunjil' is the ancestral creator
Eagles!
In high summer's dreaming light,
upswept on breezy thermals,
three circle whitewashed trees,
leaf-crowns seethe on northerlies,
three dots melt above the green,
as spring grass bends and new life darts,
their curved-wide wings enfold
the earth's far sides,
on whisperings, on slip-rimmed stealth.
As smaller ground-hugging birds erupt –
warning shrieks from silver crowns!
Choughs and currawongs harass great shapes,
soaring to a higher clip above muyan, silver wattle.
Clouds float above
the morning shimmer-gloss
where a liquid ribbon threads low hills.
Three melt over Yarra Valley dazzle-pools –
billabongs prinked with biel, the river red gum...
See: https://puncherandwattmann.com/product/poems-far-and-wide/ (where my book is now listed). And: https://www.newsouthbooks.com.au/books/poems-far-and-wide/
For more details: see Latest Posts and Publications and Poetry sections of this website!
He is currently working on a collection of short stories. For details, see the Short Stories section of this website.
John has lived and worked in several countries, taught masterclasses at home and overseas, and won a number of prestigious literary awards. He was born in Melbourne, and lived in Sydney from 1974 to 1978 before returning to his home city. A former journalist, now living on the rural fringe of Melbourne, John has worked extensively in both commercial and literary magazine publishing, on metro and local newspapers, some radio and a little TV. He has also worked as a teacher, book editor and sessional academic. He is the author, editor, co-author or co-editor of 24 books.
Here is my (slightly out of date) Wikipedia entry: https://en.wikipedia.org/wiki/John_Jenkins_(poet) And more comprehensive Austlit website, at: https://www.austlit.edu.au/austlit/page/A20818
***
(Readers, please scroll down below, to find free sound files and free short stories for children....)
Notes: For those who have asked... my home page pic was taken from a balcony overlooking terraced high country of Sapa, Vietnam, about 350 km north of Hanoi, while on a week-long and very enjoyable walk.

CONTACT

Email:
john followed immediately without any spaces by dot(.) then by jenkx1 then @gmail.com
Postal Address:
John Jenkins, C/- Post Office
Kangaroo Ground
Victoria 3097 Australia.
Kanga at birdbath pic: JJ
Now scroll down for Free Free Free sound files, below. Followed by two Free Free Free stories for children
Free Free Free Download. Over the years, I have dabbled a little in music and song writing. And interested people can download eight sound files below. They are parts of a piece I have titled The Four (and a half) Seasons. I composed this work quite recently, and it contains natural sounds sampled from my place in Kangararoo Ground, Victoria. Firstly, I played the piano parts on an acoustic piano; next, I treated them electronically; and finally combined the treated piano with the natural sounds I had recorded. Two of the eight sections also contain fragments of sampled and treated recordings from other players/musicians (one from Oz composer Syd Clayton; while another has treated parts of a Tchaikovsky symphony). The parts of my Four (and a half) Seasons for you to download, are as follows: 1. Slow shimmer in summer, frogs, birds, piano. 2. Autumn warm to cool. 3. Syd Clayton and winter rain. 4. Spring, the tempo quickens. 5. Summer night, piano, eagle cry. 6. Summer evening calls, sampled and treated vinyl, crickets. 7. If it quacks like a duck, and walks like a duck... 8. Slow shimmer in summer, returning.
Also Free Free Free, please find two short stories for children, Cathy's Cloud and A Hairy Story, illus. by JJ. Simply click on this link: A Hairy Story
More for FREE FREE FREE:
John has also recently written and illustrated a book of silly scribbles and nonsense poems, A Half-Baked Fruitcake of Nuts and Nonsense. See: https://booko.com.au/9781922465658/A-Half-Baked-Fruitcake-of-Nuts-and-Nonsense-Silly-stuff-for-kids-of-all-ages
Here is an extract from my nonsense book:
Illustration below by JJ.
Marcel the Poodle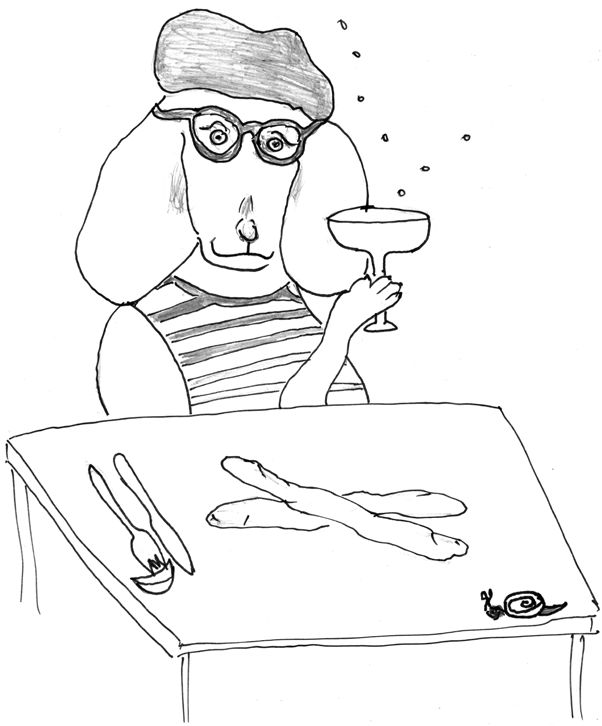 Marcel the poodle
Ate oodles of noodles
And haute cuisine
From his fork.
He wolfed down croissants,
Soufflé and poulet
And duos of baguettes
Served with pork. 
"It's a mere bagatelle
To dine out so well,"
Said stylish Marcel
Looking great.
"A true gourmet like me
Has éclairs with tea
Plus a big pile of snails 
On his plate. 
And I'm fond of fondue
Or a gateau or two
With a bowl of French fries
Till I'm sate."
With a glass in his paw
Marcel poured himself more
Bordeaux red and some fizzy champagne,
Then he sniffed and he licked AND HE ATE!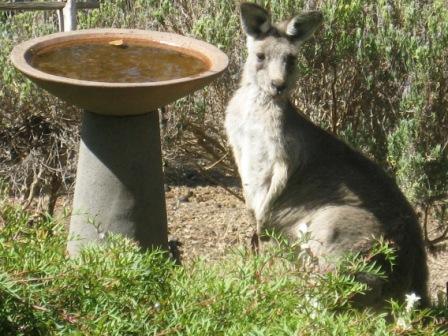 Cheers, John