Forthcoming, and in progress: A Collection of Short Stories, and Quadrella of Novellas.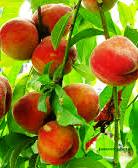 UPDATED JAN 2022: I am now working on A New Collection of Short Stories, and also A Set of Novellas. I am toying with the title A Quadrella of Novellas for the latter, but with too many possible titles for the story collection, I won't try to list them all here.
So far (as of JAN 2022) I have completed 80 stories, now at initial edit stage, 26 of which have been preciously published.
By mid 2022, I will probably have enough material for several collections, we will just have to wait and see.
I have been fascinated by short fiction since the mid 1970s. Since that time, around 25 of my own stories have been published in magazine journals, anthologies, newspapers, on websites, etc. I have also edited several anthologies containing new Australian short fiction.
The two (or perhaps three) new books I have in mind, however, will be the first short story/novella collections of my own work.
*Already short-listed, published and prize winners:

Of my newest batch of 20 or so finished stories (ie, those dating back to around 2013/14) nine have already been shortlisted in leading Australian short story competitions and seven published in associated online or prize anthologies. One has won a major first prize, and another a 2nd prize. (For more details, see the Latest Posts and Publications section of this website.)
* 2020/2021: I am delighted that my short story, The Stars Shine for Bach, has recently been published in the Oz Music Trust's E-Zine, Loud Mouth. See: https://musictrust.com.au/loudmouth/the-stars-shine-for-bach-a-short-story-by-john-jenkins/ Also in the Oz Music Trust E-zine is my Mozart story Under His Hat: https://musictrust.com.au/loudmouth/under-his-hat/
Here is another recently published short story, The Flower in the Buttonhole:
https://thehumanwriters.com/2022/01/08/the-flower-in-the-buttonhole/
* FIRST PRIZE, 2018 Elyne Mitchell Short Story Competition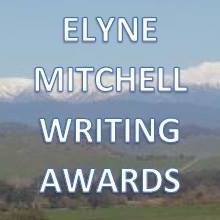 My story, The Girl Who Wasn't There won the Open Section of the 2018 Elyne Mitchell Award, for a story up to 2,500 words. And if you'd like to read all shortlisted entries; a well-produced booklet is available for $15 + $3 postage. (Contact the Corryong Neighbourhood Centre on 02 6076 2176 or email This email address is being protected from spambots. You need JavaScript enabled to view it.).
**
2nd Prize, C. J. Dennis Society Short Story Competition
My story, Rosemary's Summer Harvest won second prize in the 2018 C. J. Dennis Society Short Story Competition.
**
My short story, Through a Latte Darkly, was published by Margaret River Press in the prize anthology, Joiner Bay & Other Stories, edited by Ellen van Neerven, 2017. (A previous short story, That Summer at Manly, was published in the MRP 2013 prize anthology, Knitting and Other Stories, see: https://margaretriverpress.com/?s=John+Jenkins&post_type=all
So far, completed stories comprise a huge variety: character studies, speculative fiction, tales of the uncanny, hard-nosed realism, naturalistic tales of everyday life, very dramatic stories and atmospheric ones as well. I find all the possibilities equally intriguing, and have many ideas and notes for same. I have also, very recently, completed my first novella (15,00 words-plus) and have several more novellas in progress.
I am yet to approach a potential publisher, as I have not yet decided upon the make-up of any final manuscript, or polished a final draft of same. But will post developments as they happen.
Again, watch this space!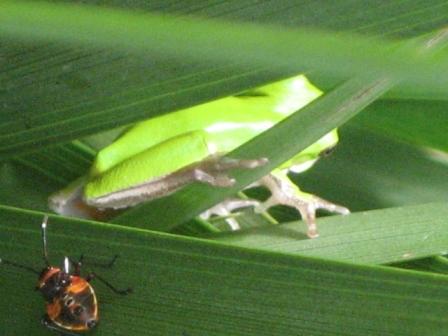 Frog and harlequin bug. Pic JJ.